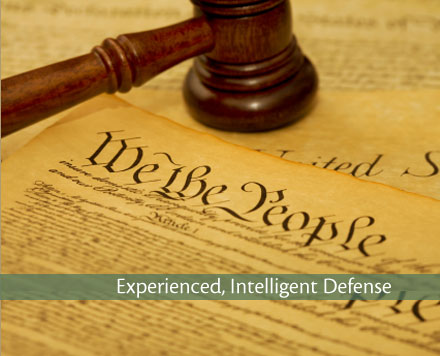 Orange County Criminal Lawyer
with a practice limited to criminal and juvenile defense

What would you do if you or someone you care about has been charged or is about to be charged with a crime? You would call a lawyer with a proven record of helping clients in the toughest situations of their lives. You would call Criminal Defense Lawyer, William M. Weinberg.
State and Federal prosecutors have become increasingly aggressive in the manner in which they charge individuals. As a seasoned Criminal Attorney in Orange County, I have successfully defended many cases involving the most serious charges, ranging from homicides to sexual assault and driving under the influence.
Hiring the right defense attorney to help is the most important decision you can make. As an Orange County criminal lawyer, I will take great care to make you and your case stand apart from the others and obtain the best possible outcome. If you are charged with a crime, from murder to assault, from domestic violence to DUI, in Orange County local courts in Fullerton and Santa Ana or at the federal court level, I can help you.
My law practice covers all types of criminal defense cases, ranging from homicides, to rape, arson, burglary, drug sales and possession and domestic violence. I strive to provide the best defense to anyone accused of a crime, whether their case is at the local court in Newport Beach, Juvenile Court or the Westminster Court. I have trial experience, ranging from murder, to DUI, rape, DNA related crimes as well as theft crimes, drug charges such as possesion or sale, and juvenile delinquency matters. I offer confidential consultations without any fee and will work with families to provide a fee structure that suits your circumstances.
With offices centrally located in Irvine, I handle criminal matters in all the cities surrounding the courts, from Laguna Beach to Tustin and Laguna Niguel to Huntington Beach and throughout Orange County California. I make it a personal goal to maintain excellent communication with our clients to explain the often confusing legal process. For updated information about the criminal defense process in Orange County, please see my Criminal Defense Blog and my DUI Blog which both contain analysis of current criminal cases in Orange County.
Please feel free to call me at (949) 474.8008 or you can contact me online.
Proven Results
David L.
David, charged with two misdemeanor DUI charges as well as misdemeanor failure to appear. After an 11-year outstanding warrant, he admitted to misdemeanor reckless driving only without probation.
Michael C.
Michael, a probationer, was charged with felony First Degree Residential Burglary, (a Strike), Second Degree Commercial Burglary and Receiving Stolen Property, facing 8 years in prison. He admitted guilt to the police. We obtained a dismissal of the residential burglary charge, thereby avoiding a Strike. He admitted to lesser charges and was given probation and community service.
Jason W.
Jason of Tustin, was charged with three felony counts of domestic violence, with priors (Second Strike) and faced 17 years in prison. After exhaustive investigation into the false allegations and talks with the District Attorney, all charges were dismissed.
Aaron A.
Aaron, a father of two, was charged with 6 strike felonies. After a weeklong trial, he was acquitted of all charges, preserving his reputation and returning to his career in the banking industry.
Juan A.
Juan from Placentia was charged, along with two others, in the baseball bat beating of another man while many witnesses watched. After a two- week trial, Client was found not guilty, but his co-defendants were found guilty. He was freed from jail that very day.
Anita H.
Anita, a federal parolee and resident of Tustin was charged with two counts of residential burglary (two Strikes) and faced 14 years in both State and Federal prison. All felony charges were dismissed and client received home confinement after admitting to a simple misdemeanor.
Albert K.
Albert, a bank teller from Santa Ana was charged with 15 counts of wire fraud after scheming with others to transfer funds electronically using dummy accounts. He faced 15 years in federal prison. We had him sentenced to house arrest and he successfully completed probation.
Tyrone F.
Tyrone, from Westminster, was on felony probation for grand theft and facing state prison, was charged with stealing a new car from a dealership in Huntington Beach. Despite eyewitness testimony that put the client at the scene, a jury was unable to agree on a verdict. He admitted to a lesser charge and was given probation and community service.
Michael S.
Michael, a juvenile from Santa Ana, was charged with three counts of robbery. After a jury trial he was found not guilty of all counts and was able to complete high school and receive his diploma.
Daniel S.
Daniel from Newport Beach was a two-letter sports standout in Ventura County who was arrested on two counts of assault causing great bodily injury after a well-publicized fight at a party. Daniel earned a dismissal after admitting only to a lesser assault charge. As a result, Daniel earned a full football scholarship to a Big Ten University.
James Q.
James, a long-haul truck driver from La Habra, was charged with hit and run on another car. All charges were dismissed after a thorough investigation showed the victim gave false testimony.
Richard L.
Richard from Orange was charge with Assault with a Deadly Weapon after attacking his neighbor with a 10 foot-long metal pipe. A jury was unable to agree on a verdict and he admitted to simply disturbing the peace and received no additional custody time.
Juan M.
Juan from Aliso Viejo was charged with four life counts of molestation by force. After an exhaustive investigation, he was exonerated of all serious charges and pleaded no contest to a reduced charge with time served.
Mark S.
Mark from Santa Ana was charged with several counts of felony domestic abuse and felon in possession of firearms and ammunition. After trial the jury could not agree that he committed domestic violence and found him not guilty of other counts. He received only local custody time instead of the 14 years in state prison offered to him at the outset.
Florante R.
Florante from Fullerton was charged with domestic violence. Mr. Weinberg entered his client into an anger management class and negotiated a dismissal after the classes were completed.
Michael Y.
My client, a resident of Fullerton, was charged with two counts of Attempted Murder, with Premeditation and Deliberation. After a two-week trial, the jury found him Not Guilty of the charges, which carried two life terms were he convicted.